The Story of "The Path"
Mar 24, 2021
The story of "The Path"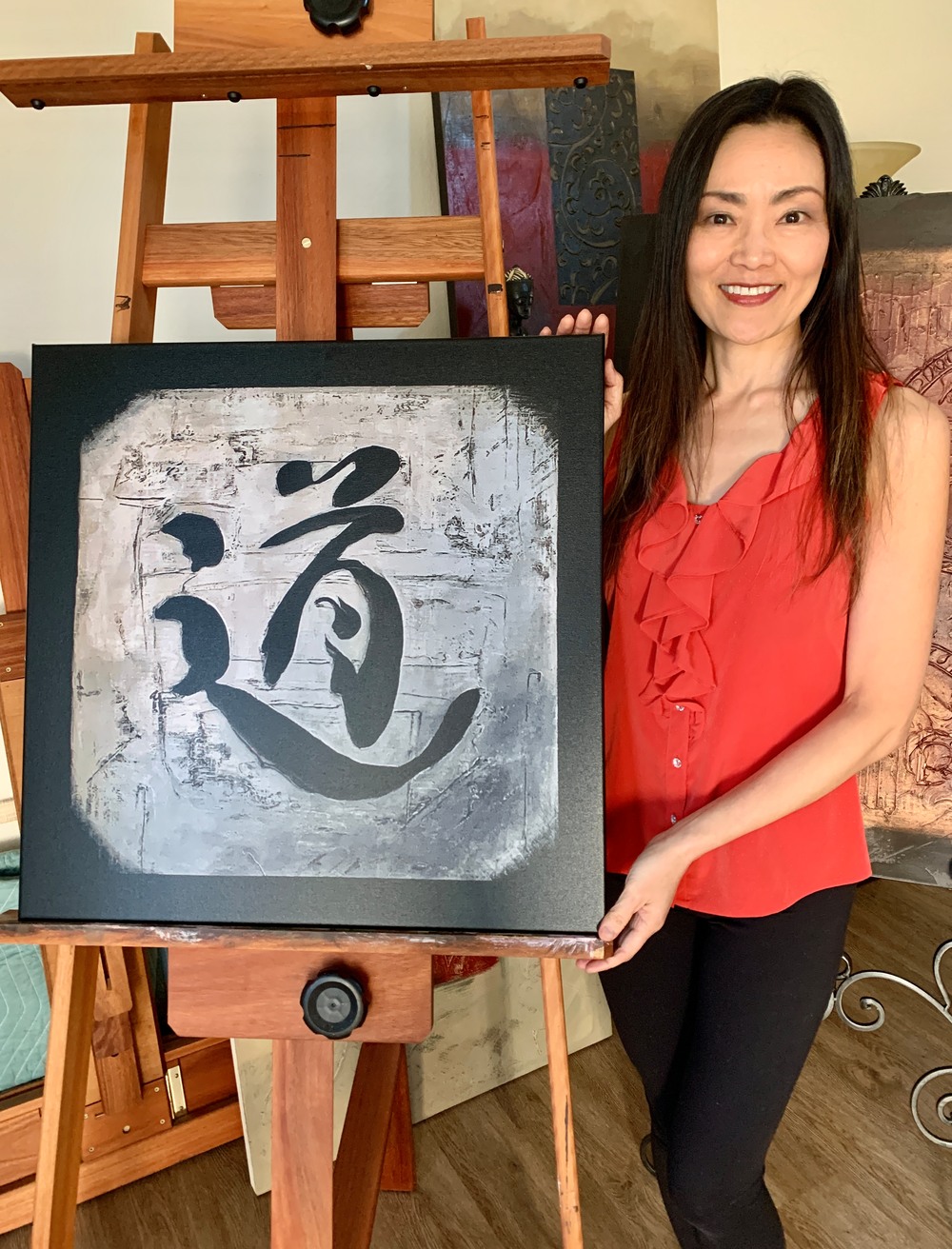 by Haruko DeArth
I painted this art pieces "The Path" (shown in the photo) about 3 years ago. It looks like traditional Japanese calligraphy, but instead of scripting the character on fine paper with black ink, it is painted on canvas with acrylic colors and with mixed medium. This piece has special meaning to me and I'd love to share the inspiration behind this art.
This Japanese character is pronounced "michi" and means "path", but has more meanings. Similar to the meaning of the English word "way", it means "path", "street", "route" in a physical way, but also a metaphysical way, as in when we say "Do it this way or that way", "our path to the future", or "journey". It also means "style" or "method". In addition to all that, this expands to something philosophical: "morals" or "teachings" -usually Confucian or Buddhist doctrine, or philosophical beliefs. It also means Tao, a Chinese philosophy and religion, where it is used to refer to "the way of nature" and "the way of life".
It might be a bit confusing for those who are not familiar with Japanese language, but it is common that one character has multiple meanings, in many cases those meanings are loosely related to each other. In the simplest term, this character for me is "path" and inspiration for "our life journey".
It makes me reflect on lots of things, but there really are only two paths in life: the path that we've taken, and the path that we are going to take.
My life journey started in Kofu Japan, the foot hill town of Mt Fuji. I grew up in a blend of unique traditional Japanese culture and economic prosperity in modern Japan. As a child I was always curious about different countries and different cultures and when I was in college, I studied bioethics and global issues and I volunteered to work in a nonprofit organization. My passion for nonprofit humanitarian aid work took me across multiple continents including South East Asia and the war-torn Balkans (formerly Yugoslavia). I traveled many miles before I moved to the US to attend graduate school.
I thought my life was adventurous and quite challenging, but I was so wrong! The real challenge began when I tried to pursue my career here in the US while raising children. I struggled really hard.
There were so many hurdles on my way: whether it was limited work experience in the US, a career gap due to raising children, being a woman of color, English as a second language, my family & marriage circumstances, and movings, those hurdles just kept coming against me. As a result, I've gone through more than a handful of jobs over the course of the past 15 years or so: just to name a few, I worked as a freelance political journalist, a part-time artist, a financial advisor, and I worked for both Corporate America and Corporate Japan.
Although I enjoyed everything that I did, and learned something valuable from each one of them, it wasn't exactly the career path that I envisioned, and I wasn't sure where I was going. It's terribly inconsistent!
In 2020, I was working for a Japanese corporation in SF when the pandemic hit.
2020 was very difficult year that virtually impacted the lives of everyone on the earth who have lived through it. In my case, I was impacted by an unexpected lay-off and again I was at a crossroads. What now? Should I go and get a job, which of course wouldn't be that easy? Or should I start something new for myself? I was forced to ask myself one of the hardest questions in life: What do I really want to do in my life and why? What is my calling? I was in a dark hole for quite a while.
Of course, I'm so fortunate to have family, and many friends who have been so kind and supportive. But when you are in a dark place, sometimes, you have to face your bare soul, alone.
What helped to keep me going, while searching for answers and a new path, not just this time around, but every time when I had to go through transitions and tough times in both my personal life and professional life, was the words of wisdom, the inspirational words of those had been on the journey, before me.
"When we're tested by crisis, we either regress and fall apart, or we grow up, and find reserves of strengths and compassion we didn't know we were capable of." -Naomi Klein

"Be content with what you have; rejoice in the way things are. When you realize there is nothing lacking, the whole world belongs to you." -Lao Tzu

"Do not go where the path may lead, go instead where there is no path and leave a trail." -Ralph Waldo Emerson
Those words helped me not only get by, but gave rise to a sense of the purpose of life, self-worth, and self-belief while helping me remain grounded and humble. They helped me to answer my own question "what's my calling?" and pushed me to open doors to new opportunities for entrepreneurship. That's how the concept of Lovetheway was born and where my new story begins.
These words of encouragement, however, are not only for those in transition or at a crossroad in life; they are for everyone!
Just think about it for moment. What does "taking my own path" really means? Whatever the goal that you have, no matter how big your vision is, the truth is that taking the path toward it must be broken down into small pieces of action in our daily life.
For some of you, it might be making one more phone call to your client at the end of the day. For some of you it may be adding 20 extra pushups to your daily exercise. And those small decisions and actions that you make each moment dictate the course of the day, week, and month and over the time will dictate the course of your life and path that you walk on.
Going back to my art piece "The Path", to me it's a powerful reminder of there is no set path for you to follow. Whether or not we are mindful of it, as we make those small decisions, we are making our own path that no one has walked before and leaving a unique trail behind us.
What path have you taken and what is the path that you are going to take?
Life is a journey in which we are all travelers searching for purpose and happiness in life. Lovetheway is founded to honor all travelers. Whoever you are, or wherever they may come from, whatever challenge they might be facing, through the inspirational message of art, I'd like to embrace each and everyone's unique life journey and encourage their personal growth.